American Silver Eagle First Salute Silver Dollars - Items tagged as "Engraving"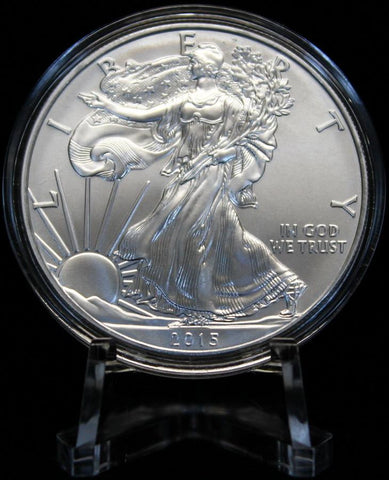 The Silver American Eagle is the most popular silver bullion coin in the world. With its gorgeous luster and wonderful strike, this coin stands out against lesser silver rounds. Production began in 1986 by the US Mint. The coin features a historical rendition of Adolph A. Weinman's Walking Liberty design, which was first used for US half-dollar coins in 1916.
When you hold this 999 fine silver one troy ounce coin in your hand, you can feel that like the Morgan, it has real substance.
This coin is marked with a one dollar denomination and is perfect for your first salute.
An Air Tites coin protector and matching display base are included, made right here in the USA!
Back date Silver eagles from the 1990s available via special order, shoot us an email if you see a year you want that is not listed!